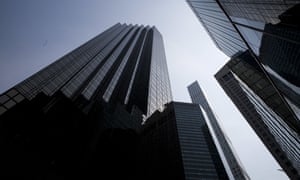 Why didn't we know about this before the election?
The FBI published documents offering a glimpse of attention paid to Donald Trump's real estate company over the past four decades on Tuesday, following years of resistance.

A pair of subpoenas for testimony to a federal grand jury in Manhattan, which were accepted by attorneys who worked for the Trump Organization, were among the files released under freedom of information (Foia) laws.

But the name of the people called as witnesses and the federal crimes alleged to have been broken in the November 1985 case were redacted, along with hundreds of other details across 149 pages that were published following requests by reporters.

Also among the released files was an FBI report on a threat made against the life of a New York City official who was refusing to give Trump a tax break. Trump denied any involvement in the threat and later gave the official a job.