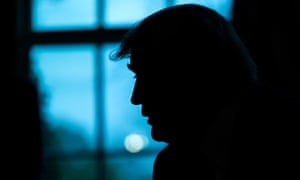 Donald Trump is literally the head of an organized crime family. A family of grifters:
Over 448 pages, Mueller does not present Trump as a traitor but does portray him as a serial liar willing to abuse power, shred norms and bend the rule of law in a White House rotten to the core. Amid this culture of malfeasance and mendacity, trusted lieutenants are expected to demonstrate absolute loyalty, up to and including obstructing justice to save the president's skin.

"He conducts himself like a New Jersey mob boss who is unconcerned about asking the people around him to conduct unethical or legally challenging behaviour," said Kurt Bardella, former spokesperson and senior adviser for the House oversight and government reform committee. "Truth and accuracy just don't factor into his thought process at all.